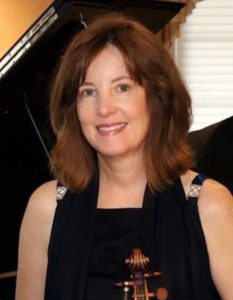 About Beth McKenna
Over 30 Years Experience Teaching and Performing
Professional experience:
The Houston Grand Opera Orchestra
The Houston Ballet Orchestra
The Houston Symphony Orchestra
The Santa Fe Opera Orchestra
Founder and first violin: The Houston String Quartet & Elizabeth Trio
Tetons Festival Orchestra
American Institute of Musical Studies, Graz, Austria
National Repertory Orchestra, Aspen Festival Orchestra
Education:
Both of these college programs are ranked very highly in violin performance, usually in the top 10 or 15.
I have taught hundreds of students violin, music theory and composition at my home studio over the past 30 years.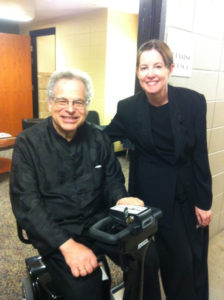 My favorite violinist is Itzhak Perlman, pictured here with me after a recent performance of the Beethoven Violin Concerto with The Colorado Springs Philharmonic. I enjoy playing symphonic music and opera. I have played over 500 Nutcracker ballet performances with the Houston Ballet Orchestra.
I have performed with a wide range of performers, including The Moody Blues, Yanni, The Three Tenors, Linda Ronstadt, Bernadette Peters, Smoky Robinson, Ray Charles, Robert Plant and Jimmy Page and dozens of famous singers, groups and orchestral soloists. I have played a very wide range of ballet, opera and symphonic repertoire, have played in many musicals and shows and have played for brides and grooms at hundreds of weddings and receptions, mostly in the Houston area and in Colorado.
I have two children and we have three cats, three fish and one hamster! Kayaking, hiking and yoga are my hobbies. I built a large Victorian dollhouse and used to belong to a miniatures club. I also enjoy reading about spiritual things and cooking. I served as a Commissioner on the City of Lone Tree Arts Commission for a number of years and was involved in the effort to design and build the Lone Tree Arts Center. Part of my time was spent working with Kirsten Fletcher in developing the "Passport to Culture" programming for children. I also helped develop programming for "Arts in the Afternoon," and performed in 12 programs at The Lone Tree Arts Center.
I look forward to meeting you and to working with your child!